Ayanza is Teamwork at its best
Get the team into flow and achieve objectives easily.
Be guided by Ayanza through the process.
Find the answers to key culture questions: What is our purpose? How do we behave? What do we value?

Ivan Trancik
CEO - SuperScale
With Ayanza I can quickly capture my ideas. I am confident that I don't miss news from the team.

Michal Stencl
Chairman & Founder - Sygic
For a long time, I was looking for something to connect the Vision, OKRs, and Tasks for a Tech product.

Aurel Olle
GROWNi Tech Lead - LEAF
The most important value of Ayanza for me is to align with the team. When we know where we are going, we each see our own ways.

Matus Galik
Problem solving software engineer
Much less overwhelming than Notion.
Upgrade Your Collaboration Universe
Get the best value in all-in-one setup or lighten up your stack with vision and heart.
Unlock
team benefits
Purpose
Everyone shares a common vision that inspires creation & provides fulfillment.
Clarity
Actions of all are guided by precise understanding of shared objectives & work of other people.
Collaboration
Everyone leverages the power of mutual collaboration to their advantage.
Connection
Everyone works closely together and helps each other.
Alignment
Everyone sees the work of other people without needing to use specialized tools.
[Your Choice?]
What team benefit you would like to unlock?
Get every role into
the flow
Leaders
Managers
Team members
Students
As a
Leader
I like the right people and culture, inspiring vision, sharp strategy, and an overview of the progress of my teams.
Shorten time to value with templates
Utilize ready-to-use templates for your notes, spaces and rhythms.
All-in-one
All the necessary tools for managing the whole organization
Spaces for all teams
with their own vision, goals, tasks, rhythms and wiki.
Ready-to-use templates
for various business needs.
300+ coaching questions
and more coming.
Powerful editor
for notes or the whole websites.
AI assistant
for easy content creation.
Feel The Value Before You Buy
Free! For teams with up to 25 members. Then just from 6$ a seat a month.
Up to 25 people
All Ayanza functionality
Free forever
25 people and more
All Ayanza functionality
Unlimited storage
Collaborative note-taking
Project management (Kanban, Table, Gantt)
Custom properties
Activities
Company Wiki
Public pages
Optimized for mobile
Templates
Privacy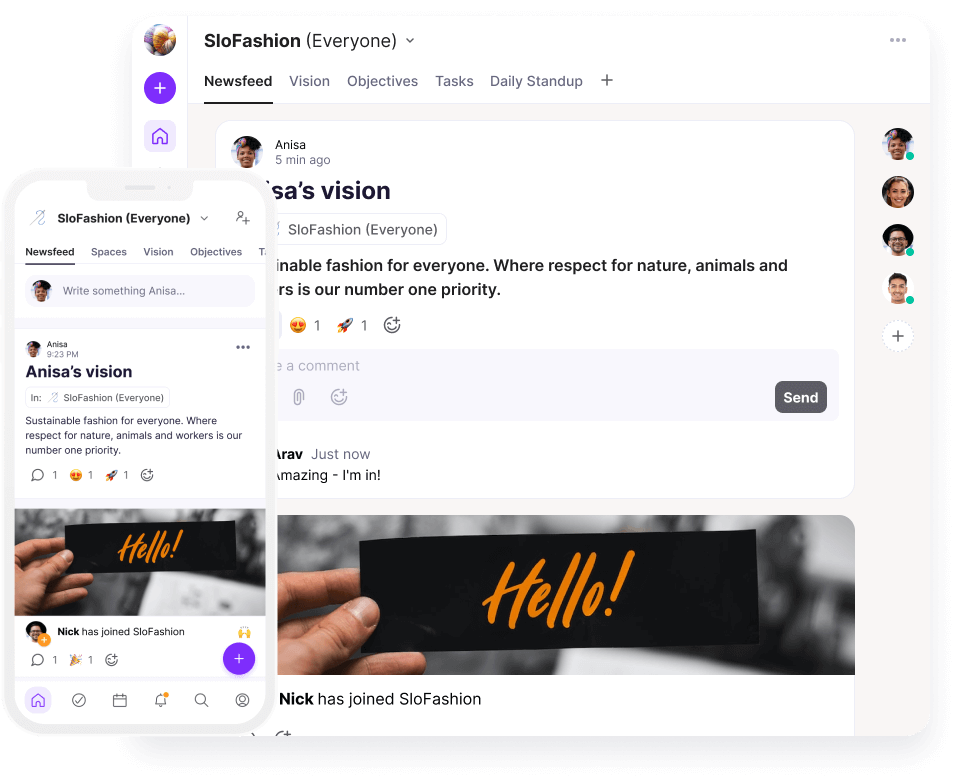 We Got You Covered
Ayanza on all devices wherever you are.